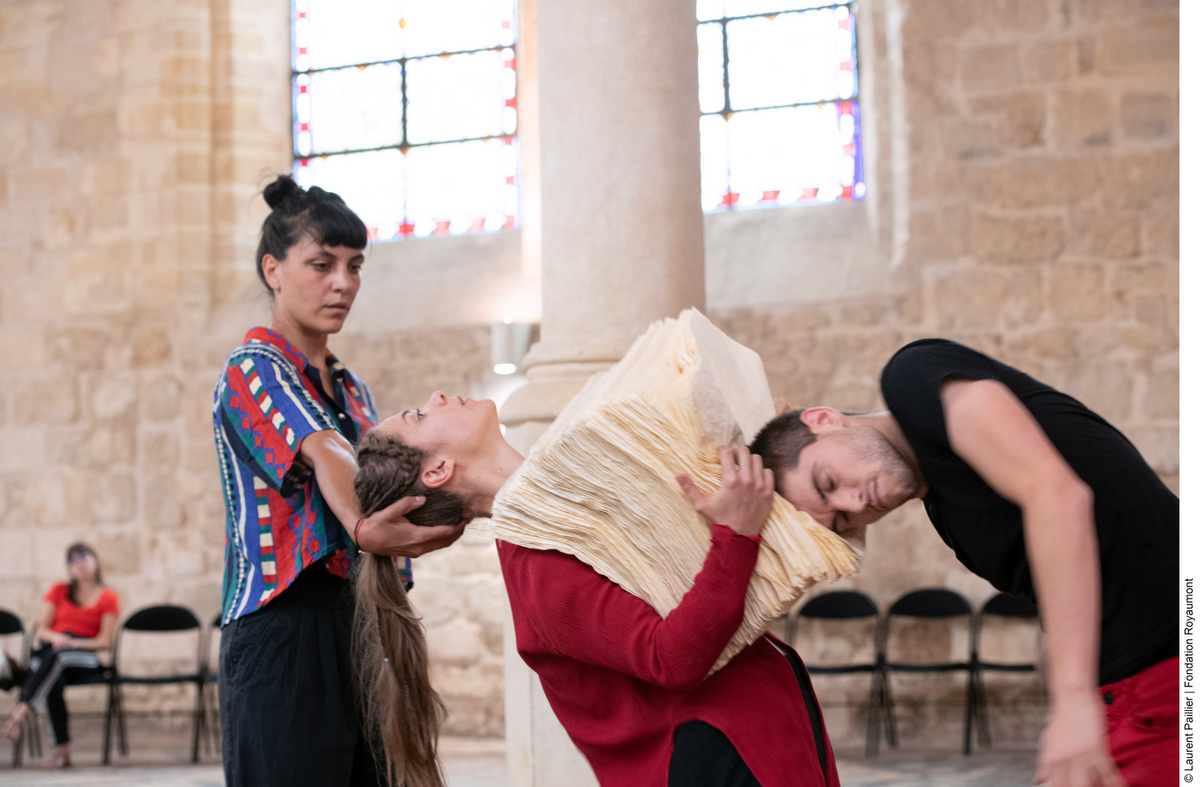 As part of the choreographic research and composition program "Prototype V, 2017-2018 – From music for dance to dance for music", the piece [CHAIR_S] is presented in the refectory of the monks of Royaumont Abbey with 7 performers as the number of the whole universe in movement, of the cycle accomplished and thus of the passage towards the positive renewal of change.
The padded paper napkins used by residents for 3 weeks at each meal in the real refectory are stored and archived to reflect the historical passage of humans in that place and the value of what we throw away in our daily waste.
Choreography: Gilles Viandier – Musical composition: Alberto Carretero Aguado – Dancers & singers: Marta Capaccioli , Gaspard Charon, Marie Simon – Musicians: Ahmed Amine Ben Feguira (oud), Nicolas Garnier (oboe + electric bass), Elsa Marquet-Lienhart (alto flute), Clothilde Rullaud (flute + singing) ©  Royaumont Fondation 2018
[CHAIR_S] – The muscular and edible part of the animal or vegetable body, the realm of the flesh has never ceased to torment human spirituality (towards an increasing interiorization/sacralization). It refers to the diabolical power that inhabits the body down to the deepest principle of the human person, and also allows us to eat to survive. Thus the refectory space concentrates several paradoxes, a place of aspiration and digestion, a unifying force of the community but devoted to noble silence, a place of listening but no representation… How is the verb, the song, the life born from the womb? What tends the soul (anima) towards the light? How to find one's own chair within the flesh… and forget time?
Presentation by Olivier Normand (critic and choreographer):
Gilles Viandier has chosen to work in the former refectory of the monks of the abbey. For this choreographer, who has also studied architecture, as well as for the composer, the question of the site, its physical, architectural and also symbolic lines of force, is at the heart of the proposal. The audience is seated on chairs in a large oval that seems to further enlarge the proportions of the room by evoking a celestial orbit as well as the mandorls of Christian theophanies. This space is the arena or setting for a choral display where dance is threatened and then guided by the presence of the winds and the oud, and where the jostling of bodies soon gives way to a new order inaugurated by the voice. The grace of a Sephardic song emerges from within the very bumps of the flesh.