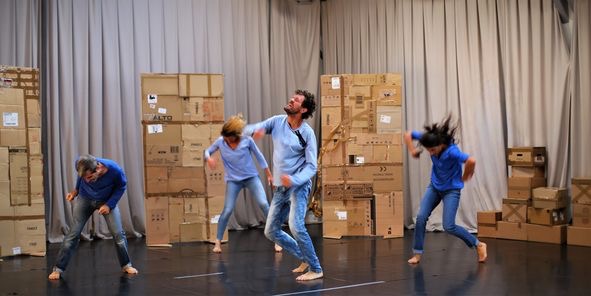 Third part of a triptych explicitly entitled Utopies of Yesterday / Utopies of Today, Collective Works examines the paradoxical question of collective individuals. A desire to take the most positive aspects of the notion of collective… And the utopia would be to make these moments of agreement last without being diluted in the community, without clashing with egos. Willing to be together in a jubilant freedom of movement and shared thought.
What about our freedom of choice? Are our decisions influenced or even dictated by the law of numbers, by social conveniences? And which tribe do you belong to?
Conception : Christine Fricker – Dancers : Jérôme Beaufils, Jessy Coste, Yendi Nammour (or Aude Cartoux), Gilles Viandier (or Yoann Boyer) – Set: Vincent Guibal / Deborah Marchand – Costumes : Nicole Autard – Video : Carole Lorthiois – Photos: Damien Gault – Production : Cie Itinerrances / Pôle 164 – Coréalisation : Klap Maison pour la danse et Marseille Objectif Danse.
https://www.cie-itinerrances.com/post/collective-works-%C3%A0-klap
https://vimeo.com/540324157/b81c0f82aa